SLADC Ashwagandha Oil (අශ්වගන්ධ තෛලය) 28ml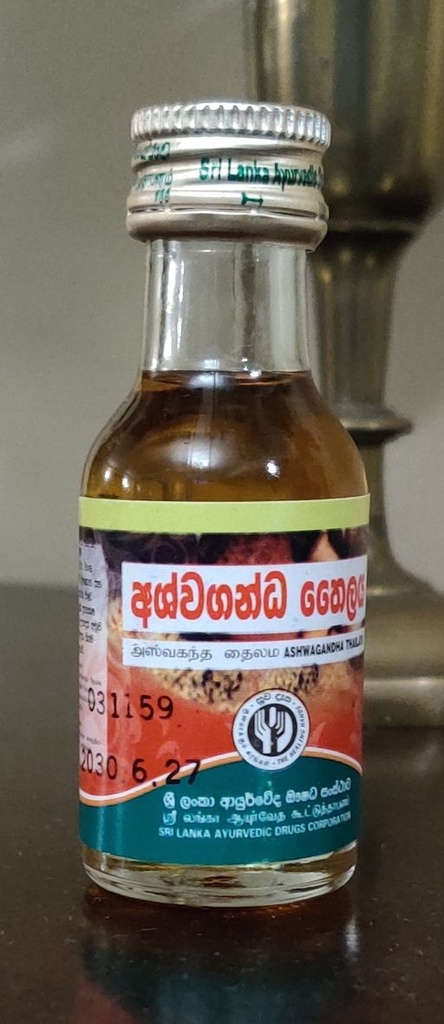 SLADC Ashwagandha Oil (අශ්වගන්ධ තෛලය) 28ml
---
ශ්‍රී ලංකා ආයුර්වේද ඖෂධ සංස්ථාව
---
ශ්‍රී ලංකා ආයුර්වේද ඖෂධ සංස්ථා
අශ්වගන්ධ තෛලය / 
අශ්වගන්ධ
 තෙල් මි.ලී. 28
ප්‍රයෝජන : නහර දුර්වලත්වය, මාංශ පේශීන්ගේ ක්ශයවීම, අංශභාග සහ මාන්දම් ආදී රෝග වලට අභ්‍යංග කළ හැකි ප්‍රත්‍යක්ෂ ඖෂධයකි. වෛද්‍ය උපදෙස් අනුව පානය කිරීම සදහා නියම කරනු ලැබේ.

Sri Lanka Ayurvedic Drugs Corporation (SLADC)
Ashwagandha Medicinal Oil / Herbal Oil 28ml

Indications : Useful in debility, Hemiplegia, wasting diseases & Rickets. Restorative nerve tonic for external & internal use. Use under medical supervision.
Proudly Made in Sri Lanka
This is a preview of the recently viewed products by the user.
Once the user has seen at least one product this snippet will be visible.
Recently viewed Products