SLADC Peyawa (පේයාව) 5g x 10 Sachet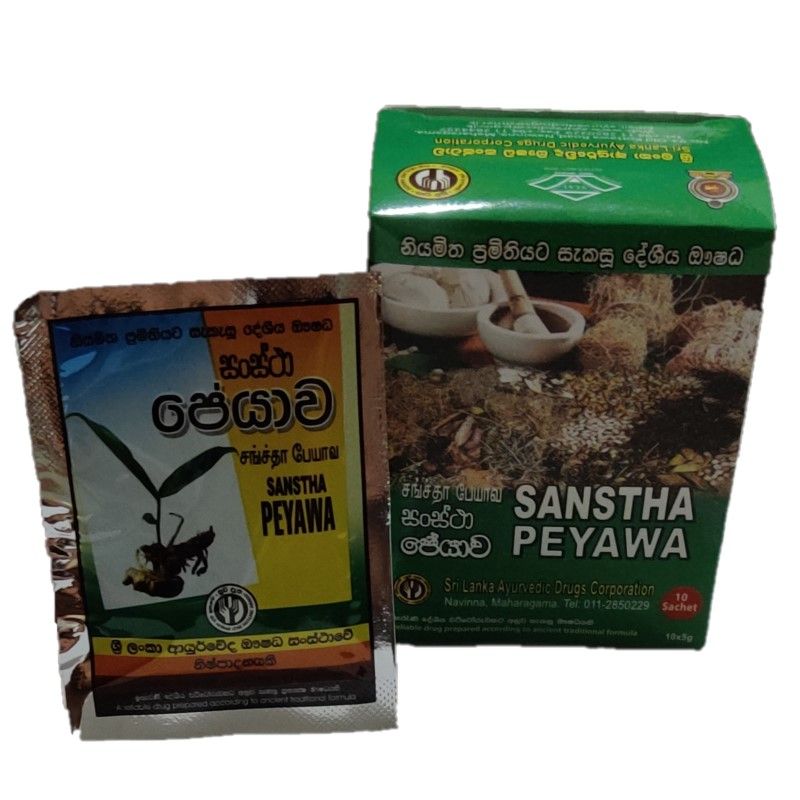 SLADC Peyawa (පේයාව) 5g x 10 Sachet
---
ශ්‍රී ලංකා ආයුර්වේද ඖෂධ සංස්ථා පේයාව ග්‍රෑ.5 x 10
---
ශ්‍රී ලංකා ආයුර්වේද ඖෂධ සංස්ථා
පේයාව
අඩංගු ද්‍රව්‍ය : ඉගුරු, ගම්මිරිස්, තිප්පිලි, කොත්තමල්ලි.
ගුණ : හිසරදය, සෙම්ප්‍රතිශ්‍යාව, කැස්ස, ඇගපත වේදනාව හා උණ රෝග සදහා වහා සුවය ලබා දෙන ප්‍රත්‍යක්ෂ ඖෂධයකි. 
පිළියෙල කරන ආකාරය : පැකට්ටුවේ අඩංගු ප්‍රමාණය නටන උණුවතුර කෝප්පයකට දමා, හොදින් වසා, විනාඩි 4කට පසු පෙරා (සීනි රහිතව හෝ සහිතව) පානය කිරීමට සුදුසුය.
Sri Lanka Ayurvedic Drugs Corporation
Peyawa
Ingredients
 : 
Ginger, Pepper, Long Pepper (P
iper Longum), Coriander
.
Indications :  Quick relief for fever and common cold & cough.
Preparation : Empty the content into a cup of boiling water. Keep for 4 minutes. Strain and drink with or without sugar.
This is a preview of the recently viewed products by the user.
Once the user has seen at least one product this snippet will be visible.
Recently viewed Products