SLADC Pranajeewa Herbal Oil (ප්‍රාණජීව තෛලය) 100ml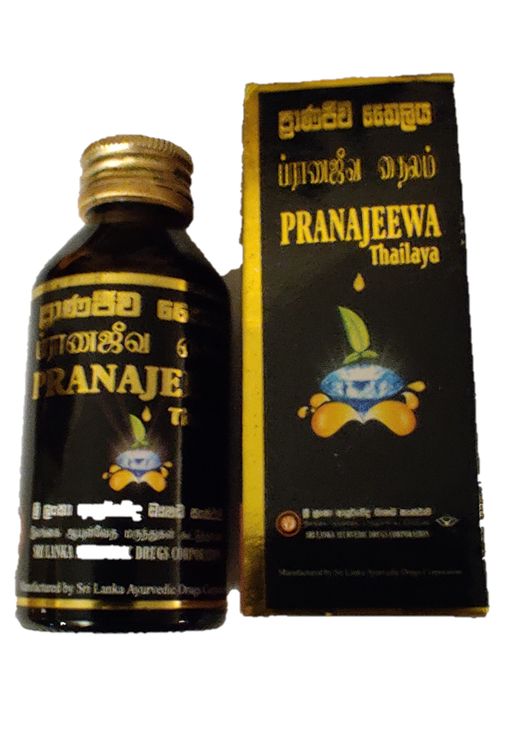 SLADC Pranajeewa Herbal Oil (ප්‍රාණජීව තෛලය) 100ml
---
ශ්‍රී ලංකා ආයුර්වේද ඖෂධ සංස්ථා ප්‍රාණජීව තෛලය මි.ලී.100
---
ශ්‍රී ලංකා ආයුර්වේද ඖෂධ සංස්ථා
ප්‍රාණජීව තෛලය
ප්‍රයෝජන : පක්ෂාඝාත, හිරිවාත, ආමවාත ආදී සියලු වාත රෝග, අධික රුධිර පීඩනය ඇතුලු රුධිර සංසරණ පද්ධතියේ සියලුම රෝග, හර්ද රෝග, චර්ම රෝග, අක්මාවේ සහ පිලාවේ රෝග, අර්ශස්, භගන්දර, මුත්‍රන ව්‍යුහගත රෝග සදහා පානයෙන් විශිෂ්ඨ ගුණ ලබාදේ.
මාත්‍රාව : තේ හැදි 1/2 - 1 දක්වා දිනකට දෙවරක් උණුසුම් ජලය සමග හෝ සුදුසු අනුපාන සමග පානය සදහා යෝග්‍ය වන අතර, බාහිර ආළේපය සදහා ද සුදුසුය.
වෛද්‍ය උපදෙස් මත පාවිච්චියට සුදුසු වේ.
Sri Lanka Ayurvedic Drugs Corporation
Pranajeewa Thailaya / Pranajeewa Oil
Uses
 : Pranajeewa Herbal Oil is specially
recommended
 for nervous disorders including paralytic conditions, numbness and rheumatism, heart & circulatory diseases, hypertension, skin diseases, liver & spleen disorders, piles & fistulae and all ailments of the urinary system. Restorative and aphrodisiac.
Dosage : 1/2 or 1 teaspoonfuls 2 times a day with warm water or suitable accompaniments. To be taken as directed by physician, Useful as an application as well.
This is a preview of the recently viewed products by the user.
Once the user has seen at least one product this snippet will be visible.
Recently viewed Products