SLADC Rasam Mix (රසම් / තැම්බුම් හොදි) 5g x 10 Sachet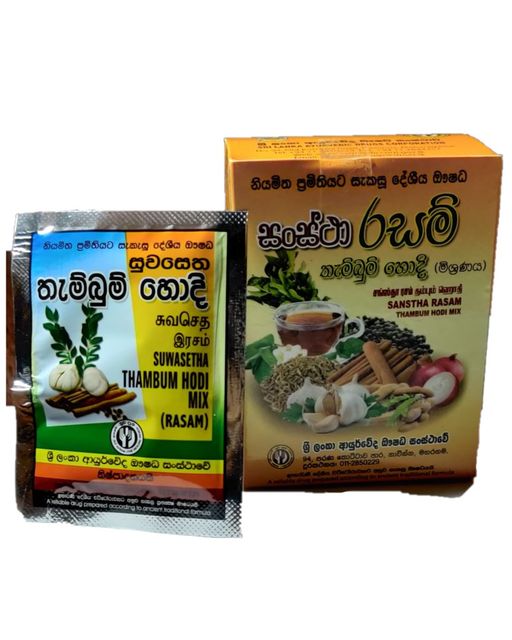 SLADC Rasam Mix (රසම් / තැම්බුම් හොදි) 5g x 10 Sachet
---
ශ්‍රී ලංකා ආයුර්වේද ඖෂධ සංස්ථා රසම් / තැම්බුම් හොදි ග්‍රෑ.5 x 10
---
ශ්‍රී ලංකා ආයුර්වේද ඖෂධ සංස්ථා
රසම් / තැම්බුම් හොදි මිශ්‍රණය
අඩංගු ද්‍රව්‍ය : ගම්මිරිස්, සුදුලූණු, කුරුදු පොතු, සියඹලා, ලුණු, සූදුරු, කරපිංචා ආදිය.
ගුණ : කෑම රුචිය වඩවයි, අජීර්ණ හා උදරාබාධ සමනය කරයි.
පිළියෙල කරන ආකාරය : උතුරන උණු වතුර කෝප්පයකට දමා, විනාඩි 4කට පසු පානය කරන්න. ලුණු හා දෙහි යුෂ බිදක් සමග වඩා අගනේය.
Sri Lanka Ayurvedic Drugs Corporation
Rasam / Thambum Hodi Mix
Ingredients
 : 
Pepper, Garlic, Cinnamon,
Tamarind
, Salt, Cummin Seeds, Curry Leaves etc
Indications : Good for indigestion and distension. Improves appetite.
Preparation : Empty the content into a cup of boiling water. Keep it for 4 minutes and drink. Best with a drop of lime and salt.
This is a preview of the recently viewed products by the user.
Once the user has seen at least one product this snippet will be visible.
Recently viewed Products