SLADC Suwa Dharani Immune Enhancing Medicinal Drink 50g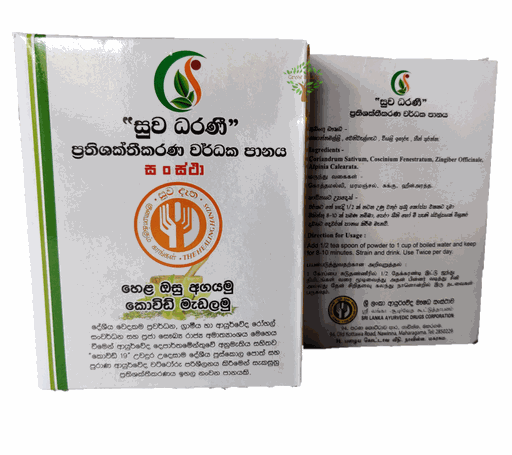 SLADC Suwa Dharani Immune Enhancing Medicinal Drink 50g
---
ශ්‍රී ලංකා ආයුර්වේද ඖෂධ සංස්ථා සුව ධරණී. ප්‍රතිශක්තීකරණ වර්ධක පානය
---
ශ්‍රී ලංකා ආයුර්වේද ඖෂධ සංස්ථා
 සුව ධරණී - ප්‍රතිශක්තීකරණ වර්ධක පානය ග්‍රෑ.50
අඩංගු ද්‍රව්‍ය : කොත්තමල්ලි, වෙනිවැල්ගැට, වියලි ඉගුරු, හීන් අරත්ත.
භාවිතයට උපදෙස් : වරකට තේ හැදි 1/2ක් නටන උණු වතුර අඩු කෝප්ප එකකට දමා මිනිත්තු 8-10 පමණ තම්බා, පෙරා සීනි හෝ මී පැණි ස්වල්පයක් මිශ්‍රකර දවසට දෙවරක් පානය කිරීම මැනවි.
Sri Lanka Ayurvedic Drugs Corporation
Suwa Dharani - Immune Enhancing Medicinal Drink 50g
Ingredients
 : Coriandrum Sativum, Coscinium Fenestratum, Zingiber Officinale, Alpinia Calearata,
Direction
 for usage : Add 1/2 tea spoon of powder to 1 cup of boiled water and keep for 8-10 minutes. Strain and drink. Use twice per day. 
This is a preview of the recently viewed products by the user.
Once the user has seen at least one product this snippet will be visible.
Recently viewed Products